Courtrooms all over the country are taking health precautions during the mandated quarantine as they try to continue to operate in this unprecedented national health crisis.
Some courthouses are banning the public during legal proceedings, only allowing the lawyers and defendants inside. This is in stark contrast to First Amendment law and a 1984 landmark U.S. Supreme Court decision that established that courtrooms are public spaces.
But these are exceptional times that call for exceptional decisions to be made. However there is massive confusion because no nationwide guidance has been called for so each Judge has to make his or her own decision.
In Nebraska, U.S. District Judge John Gerard postponed all civil and criminal jury trials and hearings scheduled.
In Iowa, federal courts are closed for civil and criminal jury trials until May 4. Judges are allowed to hold hearings if they deem them necessary and safe. Likewise, state courts in Iowa have called off criminal jury trials until late April and civil jury trials until early May. One County Courthouse is closed to the public indefinitely.
In federal courts on both sides of the Missouri River, courtrooms are essentially closed for an extended period of time.
District courts are scrambling to impanel the required number of prospective jurors without compromising the safety of the citizens. They are also scrambling to "ensure the constitutional rights of individuals" while balancing health concerns about spreading the virus. And then there's  the media's right to be inside a courtroom.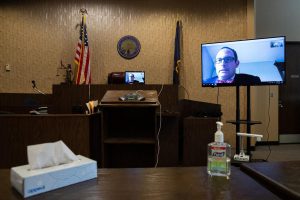 Technology has played a big part in ensuring the work inside the courthouse continues. In Nebraska, Douglas County District Judge Wheelock wasn't physically inside the courtroom during a proceeding. Judge Wheelock "appeared" on a 50-inch courtroom monitor via Skype videoconferencing.
"For the record, the court will note that all parties are present in the courtroom," Wheelock announced, "and I'm appearing literally from my living-room area."
With AV Capture All solutions, courtrooms can still work as they normally do by using our AV Capture Judicial tools to record the Audio and Video of courtroom hearings. The Court Calendar or Docket is synchronized to the recording, with an option to publish public hearings online. If published, the docket is then indexed and becomes immediately searchable, allowing Court staff to save time by directing defendants or other interested parties to the website to view or order their recordings. If not published, court recordings can be easily located and burned to DVD.
For courts all over the county, we're here to help during this health crisis. Click here to Request a Demo Today!